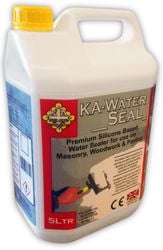 Premium Silicone Based Water Sealer for use on Masonry, Woodwork & Paving.
KA-Water Seal is designed to provide excellent water and oil repellancy and fast beading whilst still allowing the substrate to "breathe".
KA-Water Seal can be used to prevent water penetration on Decks/Fencing, Concrete Driveways, Brick Patio's and many other Pourous Surfaces.

Technical Data Sheet

Material Safety Data Sheet