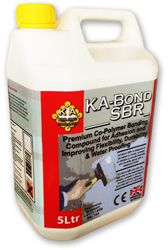 Premium Co-Polymer Bonding Compound for Adhesion and Improving Flexibility, Durability & Water Proofing.
KA-Bond SBR is designed to be added to mortar, screeds or renders to provide flexibility and durabilty along with a waterproof finish.
KA-Bond SBR can also be used prior to the application of renders, screeds or slurries to provide a strong adhesive bond that will not re-emulsify.

Technical Data Sheet

Material Safety Data Sheet